Click here for more information and to buy
We pride our hampers on stunning presentation and beautiful flavours. Each gift is hand packaged and every single item inside has gone through our strict tasting process to ensure our hampers are not only great value for money but are of the absolute highest quality.
Inside you will find a scrumptious selection which includes,
Chloe`s Christmas Wreaths Cranberries & White Fondant Biscuits 150g
Original Cake Co. Mini Iced Xmas Cake
The Pickled Village Strawberry Jam 114g
Walkers Milk, White, Dark Chocolate Classics 120g
Original Cake Company Mincemeat Shortbread Traybake
Radfords Chocolate & Caramel Fudge 85g
Eternal Grocer Chocolate Coated Nuts & Raisins 175g
Buiteman Cheddar Biscuits 75g
Stas Chocolate Bauble 50g
Taste Old Fashioned Pear Drops 100g
Packed into a Red Gift Box (34x27x10cm)
Please note that it is sometimes necessary to substitute items with a suitable equivalent.
Click here for more information and to buy
Similar Items:
Sorted by relevance. Sort by Price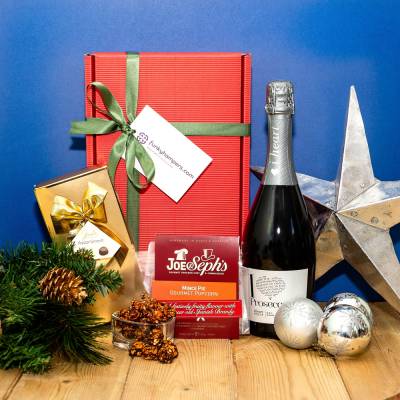 The Prosecco and Christmas Treats Hamper
£28.5
from FunkyHampers
Presented inside a festive red box, inside you will find a scrumptious bottle of Prosecco a delicious pack of Joe and Se…
more
Category: Gifts Gifts
Brand:
EAN: 0